ASAv Version: 9.16
In this tutorial I will show you how to install ASAv on VMWare ESXi.
Steps
Download the ASAv software. You need to have a valid Cisco Account or get a trial from a Registered Cisco Partner.

You can check out the at the official documentation link.
Unzip the file.n You should see the following files in your unzipped folder.
On your ESXi web console click on Create/Register VM. Then select Deploy a virtual machine from an OVF or OVA
Give the VM a name a select the following files from your ASAv folder.
Select the location to store the VM.
Read through the License Agreement and agree to the terms and condition to proceed.
For the Deployment options.

Select the management LAN that you will manage the ASAv from. This should be the network that your laptop is in, in the lab environment it is usually your internal network if you have make the necessary network segmentation.
Depending on the license you can select the Deployment type. In this example we are using the ASAv5 license type which have a throughput of 100Mbps.
You can select thick or thin provisioning. In a lab environment Thin provisioning is usually sufficient.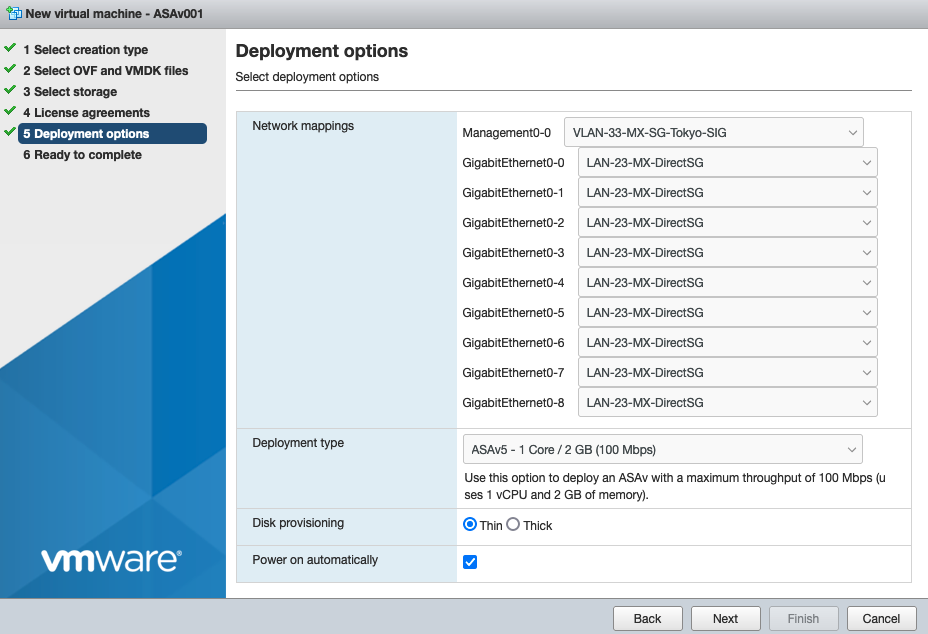 Once you completed the installation wizard. Click on Finish to complete the deployment of the ASAv in ESXi.